Next Level Photo Booth Rentals. Introducing Interactive mirrors
The Da Vinci Mirror
This is no ordinary mirror. And your guests won't believe their eyes or ears as The Da Vinci Mirror comes to life! From the engaging voiceover that guides users every step of the way, to the colorful animations that make the magic of the animated mirror even more vivid, this is entertainment taken to new heights. Fully interactive, filled with advanced photo technology, users will be enthralled from the moment they touch the screen. The only limit to the fun is your guests' imagination.
Picture-perfect selfies are top of the menu, but with the chance to add custom animations, stamps, filters, and emojis – this is so much more than a selfie. And with our signature feature, guests can make the moment even more personal with the addition of their very own messages on their printed images. Guests can show off their silly side with selfies, but also let loose and get creative with the option to make their own GIFs and Boomerangs, We will also provide a box full of quirky and colorful props that will bring laughter and mirth to the party. Unlimited prints will make the fun last even longer with printed keepsakes for every guest to take home as well as the chance to share their images, GIFs and Boomerangs straight to social media.
We also help you drive brand awareness and target consumers in innovative ways through experiential events and incorporating hashtags, logos and corporate colors. Get in touch and use the Da Vinci Mirror to give your guests the time of their lives.
So skip the photo booth rentals and drive engagement with an interactive mirror rental like the Da Vinci Mirror. We offer our interactive mirrors to the following areas: Great Lakes Bay Region, Saginaw, Midland, Bay City, Ann Arbor, Mt. Pleasant, Traverse City, Grand Rapids, Lansing, Detroit, and surrounding areas.
Watch this video featuring The Da Vinci Mirror
This Interactive Mirror is a true show-stopper.
The Da Vinci Mirror XL
Featuring the latest photo booth technology encased in an all-mirror design, the Da Vinci Mirror XL is a true show-stopper. Standing tall, at over 6 feet in height, there really is no missing the Da Vinci XL Capture every angle, every smile and every moment of fun as guests come back time and again to have their moment with the Mirror.
We can fully customize the interactive mirror experience, putting you and your guests firmly in control as you choose the experience you want! With almost limitless possibilities, users can choose from preset experiences or organizers can choose to create an experience that reflects your brand or theme. Every experience comes complete with its own animations as well as a printout design template that makes your printed keepsake even more memorable.
The Da Vinci Mirror XL allows for a large group of users to engage at any one time, making maximum use of the 6-foot, glass touchscreen. From capturing the perfect selfie, recording their own GIF or playing on-screen games, this really is next level photo mirror technology at its best. Brands and businesses can also include hashtags, logos and corporate colors to drive awareness and brand loyalty. Get in touch and use the Da Vinci Mirror XL to give your guests the time of their lives.
Watch this video featuring The Da Vinci Mirror XL
It may be small but it packs a big punch! Interactive Photo Booths are game-changers.
The Da Vinci Qupid
Perfect for intimate venues and brand activations where space is at a premium, our Da Vinci Qupids pack a punch and deliver on all fronts. All eyes will be drawn to the ring of light surrounding the Qupid photo interface and from the moment they step to the light the fun begins.
We can create custom animations and personalized graphics that enhance and personalize the experience, giving users so much more than just a selfie. And with the option to create Boomerangs and GIFs, the hardest part will be getting your guests to step away from the light and let someone else have fun in front of the Qupid.
We also help you ride the social media wave with the option to share all content straight to social media as well as via email and text. Brands and businesses love using the Qupid as it can be fully customized. The touchscreen interface, the back of the faceplate and even the stand can be fully branded with your company logo, event hashtag or image of your choice. Get in touch and use the Qupid to give your guests the time of their lives.
Watch this video featuring The Da Vinci Qupid
Mobile Interactive Mirror entertainment at its best
The Da Vinci Mobile Qupid
Our Mobile Qupid is like our stationary Qupid but allows us to take the animated Da Vinci mirror photo experience throughout your event. It is all-digital photo entertainment that includes photos, GIFs and Animated GIFs complete with digital props. This is the next evolution of the photo booth, and an exponential opportunity for event managers and organizers of conferences and trade shows to increase awareness and turn attendees or event guests into Brand Ambassadors.
This new interactive mobile selfie station technology cost-effectively creates engaging branded photo engagements and sharing experiences for attendees and guests wherever they are.
Create brand, cause and event awareness and promote brand advocacy at trade shows and conferences, corporate events, or at any party or venue. These interactive touch screen animated mobile mirrors are the hottest trend at trade shows and corporate events.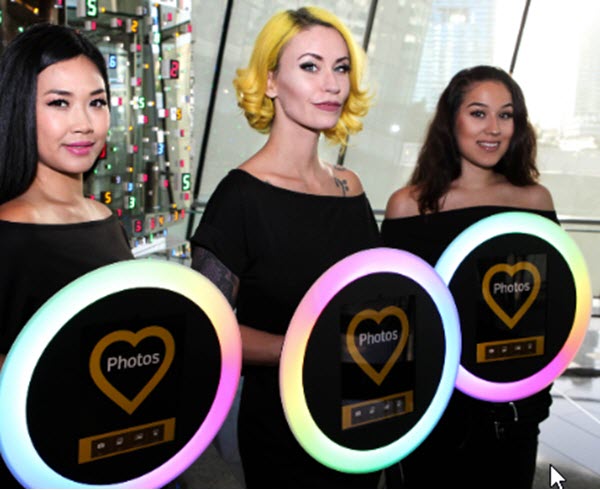 4114 S Schrieber Road, Hemlock MI
(989) 513-0087
tommy@tommyt.org